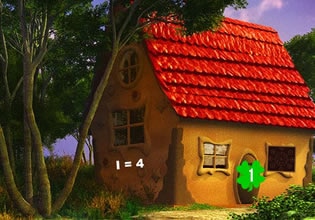 Magical Village
There is this hole in a tree which Anna comes into for the other side of it, is a place one would never expect. On the other side was an old village but the catch was it is a magical one! On the first time she got to the place which through an accident, she didn't believe what she had found herself into, it was like a dream, but she had been coming to the place for months now and in her findings, there are no people there and that's why nobody gave her answers about the place, that's why she always go there for so also. But that day however there seems to be a problem, for the hole leading home is now locked and she couldn't go back!
Anna have no idea why is it sealed now, but as it looks though what's sealing it seems to be of magical origin. She began to ask then, did she overuse her welcome there? This could be anything now especially she has no idea what's happening there, but she needs to find a way to return home then for who knows what's happening and this could spell the end for her! Escape players, Anna needs a little help here to uncover that hole so she can return home, will you be able to help her solve this problem here so she can?
Magical Village is the newest point and click magical outdoors escape game created by Hidden247.
Walkthrough video for Magical Village
SIMILAR ESCAPE GAMES