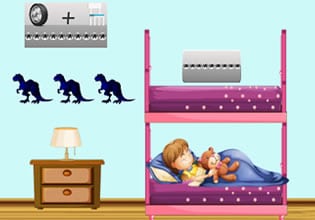 Wood Cutter Escape
Maria's father is the town's expert wood cutter, other than that he is also a mechanic and an architect, what talents he has and definitely those are most useful for everyone and for them. But that day though, her father's escape skills were tested by a situation and as she saw the events unfold for she didn't help because he said he can handle it, well he couldn't and the only person who can help him now was of course his eldest who was Maria.
Maria's siblings are creating a ruckus in the rooms for they are still babies and she might not be able to concentrate here, that's why she is going to need a little help for at the moment she has no idea what happened to the door, if her father could not open it then there is a chance she might not be able too, but she is going to try still. Escape players, you will be helping Maria here to get her father out and quickly for he is a busy man and his time here is quite important. Will you be able to solve the problem of the door so it can be opened as soon as possible?
Wood Cutter Escape is brand new point and click indoor rescue escape game released by Games 2 Escape.