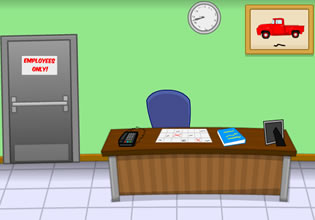 Locked In Escape – Garage
Martin woke-up and found himself in a little room and he thought it's just high-school once again! Well the room he was in now and he didn't know why he was in the place is the garage where every traffic violator goes! Well for their vehicle gets towed there. Martin didn't know why he was there and weirdly alone for he really didn't remember a traffic violation or anything prior, well he is there now and the garage's door was even locked! Martin called for help especially for the receptionist in the garage, but nobody would respond to his call and this seems to be more like a prank now or something.
Martin doesn't have an idea what in the world is going-on here but one thing is certain now, he needs to escape from this place and find some answers what's really going-on here. Escape players, it is definitely illegal to destroy anything especially in a place such as this? But will you join Martin here on his escape and see if you can all do this without destroying anything?
Try this escape adventure here in the garage's office everyone! Locked In Escape – Garage is the newest point and click escape game created by Selfdefiant.
Other games by -
Walkthrough video for Locked In Escape – Garage