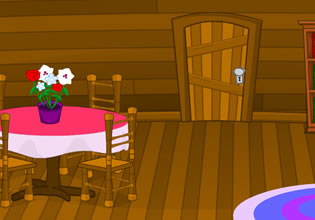 Little House Escape (Selfdefiant)
Little House Escape is the newest point and click escape game from Selfdefiant for more fun house escapes with us daily. Have fun!
The old abandoned house which is located deep in the forest was thought to be the house of a witch who terrorizes anyone who goes near it, Barton was getting pretty annoyed by those rumors for when he goes hunting, he could not get near to the place and it's really bad for the animals tends to mingle around that area. And so, Barton decided to get inside the house and fortunately, he made it! But little did he know that a problem will rise there and it could compromise his safety.
Barton entered the place and what he found was not witch's brew nor animal parts, but it's just a decent house which is currently unoccupied and he thought, who could have spread news that a witch lives here? Barton had already seen enough and anyone who owns the place could return, making him a trespasser, but when he tried the door however so he can leave, he could not get it to open and then he thought again, maybe there's a witch living here or much worst! Barton is now trapped in the house and his heart is pounding each time he doesn't find a way out, escape players care to try the wooden little house escape game here with Barton and see if your skills as well as your logic are both enough for the escape? Go ahead then and good luck!
Other games by -
Walkthrough video for Little House Escape (Selfdefiant)