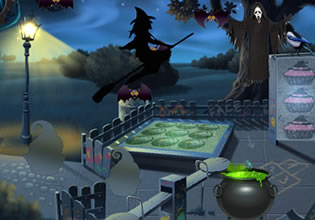 Halloween Magic Lady Escape (Games 4 King)
The magic lady even when what she is called seems good, this being is actually very scary for it is a hag with a pale-blue and skeletal face! It also has a hunched back and people are terrified of her, worst was she always visit the village every Halloween! That evening, she comes again and people know to hide from her or step aside for not only she is scary, her magic is powerful and nobody can stop her. That's why one of her wards was confused, for when she came to the village she got trapped in this one house there and now she needs help!
As her ward, Peter is really not digesting this well, what happened to her anyways? Was this old house more powerful than her? Well as it looks, it could be. But Peter has a job to do here though, he must get the magic lady out from where she is trapped or he will get it from her. Escape players, imagine you are Peter here, will you be able to free your master the magic lady?
Halloween Magic Lady Escape is the newest escape game from Games 4 King. Have fun!
Other games by -
Walkthrough video for Halloween Magic Lady Escape (Games 4 King)