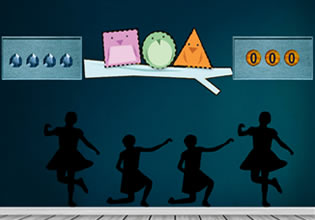 Gambler Escape
Ronnie invited the very famous gambler who wins more than he loses and he happens to be his friend. Ronnie is not really a profitable gambler and he often loses, that's why he invited his friend as his guest to the casino so he can also see how he plays for the win. Ronnie arrives at the house of his friend and he is already feeling good about this, they are going to really win. But when Ronnie calls outside of the house for his friend however so he can finally bring him, there was an unfortunate thing going-on.
Ronnie realized that his gambler friend is trapped inside his own house and it's already a loss there! It's just time that's lost but still this is quite a bad vibe if ever they'll decide to go to the casino after he rescues him, hopefully it doesn't affect the luck and the skill. Escape players, will you join Ronnie here on this rescue and see if you can get his friend the gambler out from being trapped in his own home? Go ahead then and be very careful for there might be something going-on in the place bigger than you!
Gambler Escape is the newest point and click indoor rescue escape game from 8b Games.
Other games by -
Walkthrough video for Gambler Escape