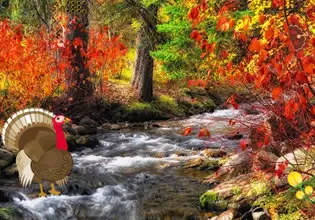 Find The Turkey Pair
The thanksgiving celebration is going to be tomorrow and that's why Giovanni is in the forest for he is hunting for wild turkeys there. There is a rule though and that's not to take the breeders there as well as the young ones and Giovanni will practice that. As he was in the river, he found one of the breeder turkeys there and this one is a legend, for he and his pair are very strong breeders of the place. But at the moment he seems to be trying to find his pair and Giovanni thinks the other one is missing!
Giovanni abandoned his hunt for the moment then just to see what this turkey is really up to, maybe he is indeed right with what he thinks? Well if he is then escape players, you need to help Giovanni here find this turkey's pair. Okay, will you be able to find clues which can eventually lead to this missing turkey?
Find The Turkey Pair is the newest point-and-click animal rescue escape game from Big Escape Games.
Other games by -
Walkthrough video for Find The Turkey Pair