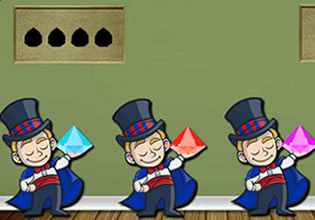 Find The Crystals
Your friend Cohen actually found a giant crystal from the forest near his home! Now it's in his house for he is thinking it could be very valuable and so he kept it safe. Cohen called you now to come over so he can show it to you.
And so you arrived at his home and you found Cohen really excited, he would like to show you his find now but when he was about to open the door of the room where it was kept, he couldn't open it! Well, that's kind of weird for he didn't even lock the door. After a few minutes, it is now looking like a problem and Cohen might need a little help with this. Escape players, of course you are going to help for not only you want to see the crystal, but as a helping-hand to your friend as well. Will you be able to find something that can open that door?
Find The Crystals is a brand new point-and-click indoor item retrieval game from 8B Games.
Other games by -
Walkthrough video for Find The Crystals