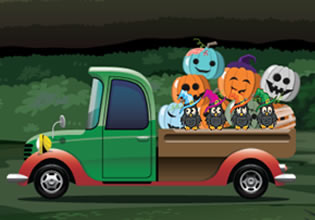 Find Halloween Candy Bag For Happy Cat
The happy cat in Cathy's room is now ready to go trick or treating, this cat is a real cat but with a difference from the normal one though, for she is imbued with magic and can walk and talk like a human! Cathy knows when she goes trick or treating that her cat will not be seen as some sort of anomaly, for it is Halloween and people will think she is just some sort of animatronic or something. But they can't get out yet though, for her cat couldn't find her candy bag anywhere.
The Halloween evening is not getting any younger and they really need to go, but will you help them so they can find this candy bag which Cathy's cat seems to have misplaced?
Find Halloween Candy Bag For Happy Cat is a brand new point-and-click item retrieval game released by Games 2 Escape.
Other games by -
Walkthrough video for Find Halloween Candy Bag For Happy Cat