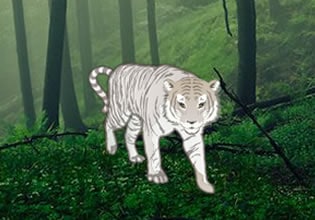 Feed The Hungry White Tiger
This forest is absolutely wild and Marlon knows that, that's why he is wary of the creatures that lives there but except one however and it's a kind of animal that is not even too safe when being around with. There is this one and only white tiger in the forest and he knows that this animal is wild, but it seems to be tamed though for it is not aggressive or defensive with him, well at least at first but now they are friends. Marlon considers himself not so in-tune with nature, that's why he came to live there so that he will. But it seems that this tiger is proving him wrong and well that's a good thing really. That day however, it seems that this said tiger is not relaxed, for it was roaming around aimlessly and was thinner than usual.
Marlon observed the tiger for a minute until he decided maybe it haven't had a bite to eat and now it is not able to think well. Okay then maybe he'll get some from his meat storage and give it to the animal. But that will not be easy though for his meats are currently under lock and key which the key part is currently giving him some trouble. But the bottom-line though is that he give some food to the rare tiger there, so escape players want to help Marlon here so he can do that? Find the key and get the produce out.
Feed The Hungry White Tiger is a brand new point and click animal rescue escape game from Big Escape Games.
Other games by -
Walkthrough video for Feed The Hungry White Tiger