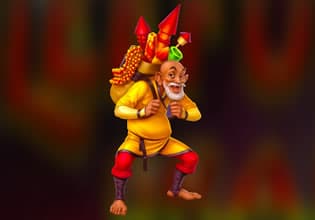 Gleeful Grandpa Escape
This village here has a huge population of the elderly, well this place is old and that's understandable, but some of them are fascinatingly strong despite of their age though and that could be because of the heavy chores they endure when they are young up until the present day. As a young one there, Daryl was also getting his fair-share of such to keep life going in the place, he is happy with that though and that's why the work doesn't get heavy. As he passes by the path going out of the village though, someone was in trouble and now he has to stop and help him.
The one who is in trouble was one of the grandpas in the village, he is carrying some timber on his back and he is heading to the village. But he is trapped in this big cage though which Daryl doesn't even know where it is from! Grandpa might have rested there for a bit from his journey and as he sat, that trap there triggered and now he is in it. Okay Daryl needs to rescue grandpa here now for he is in trouble. Escape players imagine you are Daryl here now, will you be able to free grandpa there so you can each go in your separate ways then? Delicately as you do this, for this cage is pretty much a mystery and moving something might hurt grandpa inside.
Gleeful Grandpa Escape is another new point and click rescue escape game made by Games 4 King.
Other games by -
Walkthrough video for Gleeful Grandpa Escape