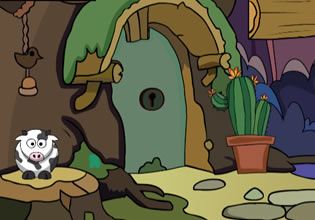 Escape The Chihuahua Dog
Sherwin really likes living in the forest here, so peaceful and free from all the pressure. But his slumber was disturbed that morning by this noise which was loud, sharp, and repetitive. Sherwin processed the sound and it seems to be coming from a dog, a small loud one like a chihuahua to be exact. Maybe it is? But there are no dogs in his area here and if there are, there will be no city-type dogs. And so Sherwin checked it out and he was right, but this little guy was trapped in one of his sheds though and it is the one that is hard to open.
Where did this chihuahua come from? Could it be that it's from the nearest village and it got lost until it reached his place? But that village is pretty far though so this is very strange. Well, Sherwin is going to get this dog out and figure-out the rest after, maybe it has a tag or a chip maybe which will be the key for its return to its true owner. Escape players would you like to help on this just to speed things up?
Escape The Chihuahua Dog is another new point-and-click pet escape game made by Fastrack Games.
Other games by -
Walkthrough video for Escape The Chihuahua Dog