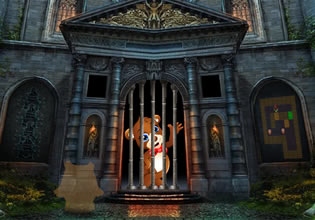 Blessed Bear Escape
This bear living in the town had been blessed by the sorcerer long ago and that's why it can walk and talk like a human! It's very weird but people loves this bear however especially the children, for it is a cheerful fellow. Thanks to all of that and how long he had been living in the place, he is pretty much a native there. Briggs knows this bear, for he grew-up playing with him and now he is an adult, they are still friends.
This bear got into some trouble that day however and he needs help, thankfully Briggs was around and now of course he'll help him. Escape players, whatever happened to this bear? Come and check this game then to see what troubled him. Briggs needs a little help too so assist him as well on that.
Blessed Bear Escape is a brand new point-and-click rescue escape game from Games 4 King.
Other games by -
Walkthrough video for Blessed Bear Escape