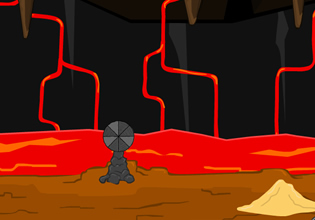 Escape Creepy Cavern
Your head is aching so much. You remember yesterday's activities and it makes your head ache even more. Your boss made you write a lot of grants for the charities he's supporting. He didn't let you go home until he's satisfied with it. So you went home very late last night. And the result is this throbbing head pain. Fortunately it's the weekend so you can just relax and not think of any work. But the outside of your apartment is so noisy with the construction going on. So you take your bag and get on a bus. You choose a route that'll get you close to the woods. You plan to stay there for a while to breathe in fresh air and maybe get some nap. The bus stops and you proceed to a convenient store for snacks. The cashier is curious about your trip.
So you tell him about and instead of letting you with a smile, you receive a warning. You try to ask him why but the customers make him busy. So you just proceed to the woods and gaze at the beautiful green surrounding you. You're very busy admiring the place that you didn't notice the hole in front of you. So you fall deep down and land on a creepy cavern with no way out. Escape Creepy Cavern is a room escape game by Mouse City.