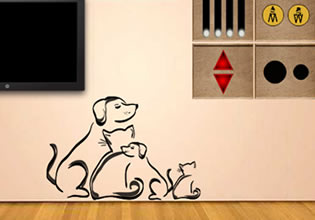 Creepy Cat Escape (8b Games)
Adam kept talking to you about his creepy cat, it is the same cat which he had as a kitten and the last time you saw it was indeed way back when it was a kitten. Adam told you that it grew creepy-looking, but he loves it to bits. That day, you finally decided to see this cat, so you went to Adam's home just to visit him as well. Well, thankfully you did for there is an issue there and Adam needs help!
As you arrived at his house, you found-out about the problem and it was actually the said cat which you came-over to see, and it was in trouble! Escape players, Adam here could not get his cat out of this room for the door was locked, the real issue was he could not find the key to it and for that he needs help. Okay then, will you help Adam your friend here so that cat can be freed from the room?
Creepy Cat Escape is the newest point-and-click indoor pet rescue game created by 8b Games.
Other games by -
Walkthrough video for Creepy Cat Escape (8b Games)