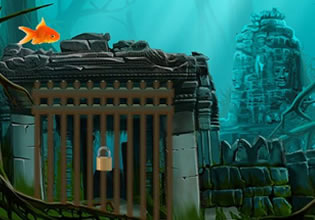 Bermuda Mystery Escape
It seems Jones have discovered a part of the secrets of the Bermuda triangle here as he scours for answers in its blue waters. At the moment, he is in this strange place underwater and he has a ton of data from there right-now. But he must bring this knowledge to the surface first and for that he must free himself for at the moment he seems to have gotten captured by the place.
Escape players, Jones doesn't know it truly but he feels like he must open a locked door there so he can be free, but he doesn't know which one to tinker with there, and another thing was his oxygen tank is diminishing so he needs to do this quickly. Okay now, the secrets of this place must be brought up to the surface, so will you help Jones here escape this place before he gets into some real danger there?
Bermuda Mystery Escape is a new point-and-click underwater escape game developed by 365 Escape.
Other games by -
Walkthrough video for Bermuda Mystery Escape