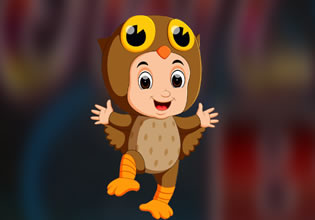 Owl Boy Escape
There are strange creatures here in the village and strange occurrences too, a lot has happened there and mostly what did everything in the place was magic. One of the devastating effects of that released magic was directly to the people who lives there, for some of them are now half beast half human!
It's a normal occurrence there now really, as a resident there Oscar was lucky he was born pure human, but his son wasn't so lucky however. He is half human half owl, it's sad but the boy still lives normally as best as he can, he is even quite mischievous at times. Well, that mischievous side of him led his father to rescue him that day! Escape players, want to see what happened to Oscar's owl boy here and see why does he need a rescue? Go ahead then and maybe help Oscar with this if you can.
Owl Boy Escape is a brand new point-and-click rescue escape game released by Games 4 King.
Other games by -
Walkthrough video for Owl Boy Escape