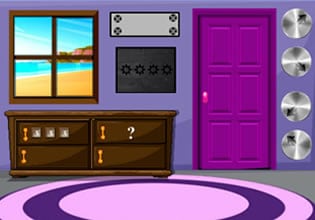 Beach House Escape (Games 2 Mad)
The beach rest house here is a perfect place even though it is not totally luxurious, it still good for Angela and her friends, and mainly they also came for the beach and the activities there. As the day progresses, Angela had to return to the beach house for she had left something while they were at the beach. Angela found that item and when she was about to get back, she was met with a problem and because she was alone, she couldn't get any help!
Angela could not find the key to the door and she knows she had brought, and that fact alone is not allowing her to get out of the place and leave it, for they won't be able to get back in for she will be locking the place when she leaves. She needs to find it wherever it is, but where though for she really can't remember where she had placed it? Escape players, Angela might need to borrow a spare from the reception here, but that is only saying she lost the key and that is extra charge for them. She really needs to find it now and for this you will be in the shoes of Angela here. Will you be able to fix this problem and quickly?
Beach House Escape is a brand new item retrieval indoor escape game from 8b Games and Games 2 Mad.
Other games by -
Walkthrough video for Beach House Escape (Games 2 Mad)