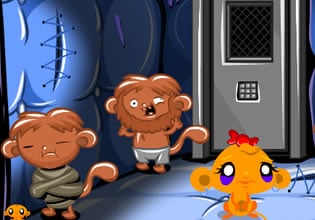 Monkey Go Happy – Stage 559
The monkey operatives detected a ton of signals coming from monkey planet where lower intellectual monkeys from them live. The specific location is a place too which is of great concern, for it's the monkey people's asylum! When the monkey operatives received this distress and pin-pointed the location, they quickly moved for often those mini-monkeys which is the source of the stresses of their victims can cause a bit of craziness if the mini-monkeys are not removed soon. And because the place is an asylum then the craziness there might add, in other words mini-monkeys and already crazy monkeys in this case is a recipe for disaster!
A monkey operative is now there and she will begin the extraction of them mini-monkeys which are centralizing in solitary confinement. That's good for the mini-monkeys won't spread outside of the facility, but that's disastrous for the patients that are housed in that room currently. Escape players, the monkey operative must hurry on this retrieval here for the room where she is where the mini-monkeys are multiplying is a volatile place and getting-out of there as soon as possible is a must. Will you be able to help the monkey operative here so that this task can be done much quickly?
Monkey Go Happy – Stage 559 is the newest point and click retrieval escape game created by Pencil Kids. This game is a continuation of the previous one as its sequel, and is a part of the first game as the start of the series.
Other games by -
Walkthrough video for Monkey Go Happy – Stage 559