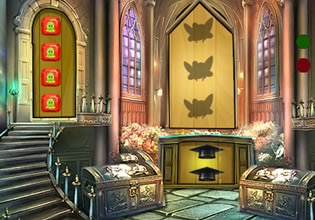 Baby Crocodile Escape
Because the castle here is situated near a swamp, animals from there can sometimes wander off in to the place and that would get the royal family as well as the people there real uneasy. For at times crocodiles would enter and it will take a lot of guards to shoo the creature away back into the swamp. They really need to put reliable safeguards there so that dangerous animals would not get in. It was quickly made but even so when that is done, animals would still be able to get in but there were fewer of them now at least. That day one of them entered the palace again and as a guard in the place, Noah must take care of that.
What Noah found which was making this distinct gulping sound coming from a locked room there was a baby crocodile! As he heard it and saw it through a hole in the door there he immediately got concerned, for if this creature is here and is making that gulping sound, it is very likely its mother is just around and could even be coming! Noah needs to get this baby crocodile out of there now and he must before a bigger one comes and could possibly hurt people. Escape players, imagine being Noah here and the situation is now in your hands, how will you fair with this then?
Baby Crocodile Escape is a brand new point and click animal rescue escape game from Games 4 King.
Other games by -
Walkthrough video for Baby Crocodile Escape