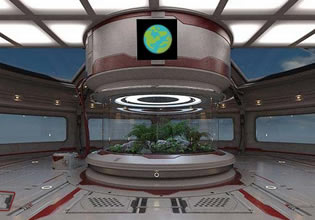 Alien Laboratory Escape
Darwin is deep in space and inside this alien ship which as he observed, seems to be a lab or something. Darwin came across this thing as he traveled through the cosmos and this is quite unexpected, that's why he doesn't know exactly what he needs to do there. Darwin collected all the data that he can from the place and one main thing was sticking-out as he roams the place, he found no living being there! It's like this was just a big hunk of complicated metal floating in oblivion.
Darwin have been to many rooms there but still nothing, guess he needs to leave the place then and report this back to his ship? But that is proving to be a bit of a problem though, for he could not find the door where he was suppose to pass through to leave. Escape players, Darwin needs a little help here to escape from this thing, help him navigate then and tinker upon stuff there.
Alien Laboratory Escape is a brand new point-and-click space escape game from 365 Escape.
Other games by -
Walkthrough video for Alien Laboratory Escape