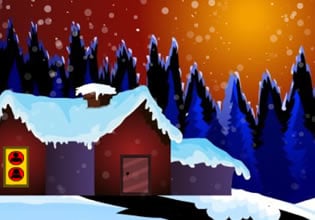 2021 Christmas Is Coming 3
Ricky had accomplished a task for Santa and now they are off to another location to retrieve another gift. But this time though it won't be a gift, for it will be a cake. A cake? Ricky don't know what's that for, but Santa said this one was special and they have to go and get it. Okay then he'll do that while Santa is delivering gifts to the children in the area where they are.
Escape players, Ricky will be retrieving a cake here in a house in the area and he needs to be quick for Santa is moving quickly here as well. Once more will you help the elf Ricky here so that they will be off right away then? Santa told Ricky that this cake is kept safely and there might be a lock involved just to get it. Okay then, it's finding a key here now and of course Ricky and you will do just that.
2021 Christmas Is Coming 3 is a new item retrieval escape game developed by Games 2 Live. This game is a continuation of the previous one as its sequel, and is a part of the first game as the start of the series.
Other games by -
Walkthrough video for 2021 Christmas Is Coming 3