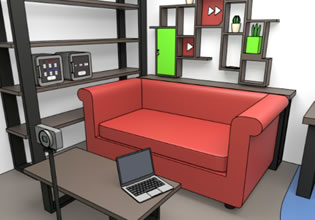 Video Studio Escape
This studio is quite advanced, probably the most advanced in this area and if not then maybe this whole city? As a worker there, Wilfred sees this as so indeed for it's the most advanced he had ever been to. But there seems to be a problem there at the moment, and because everyone was on their day-off then he alone can solve this!
Wilfred seems to be trapped in the building there, for as he tries his best to get out of the place, the doors are just giving him some problems. There is this point now that he really needs help for he can't solve what is stopping him. Escape players, will you help Wilfred here get out of the studio now without of course damaging anything?
Video Studio Escape is a new point-and-click rooms escape game from Masa's Games.
Other games by -
Walkthrough video for Video Studio Escape