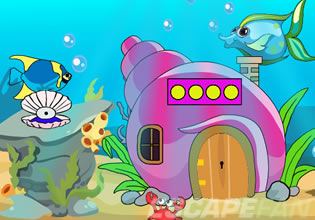 The Swordfish Escape
Ariana is a mermaid and what's happening with the ocean life there thanks to human activity is really getting her angry. As she was in this shallow part of the sea that day, she spotted another sign of human activities, this time it was one of the young swordfishes there and this one was inside a box which was see-through!
Ariana tried her best to free the animal there, but the crystal box was absolutely tough. Well, tough for she is not really human and she doesn't know how to open the thing. Escape players, you are the human one here and you can surely help. Will you be able to help the mermaid Ariana here free the young fish from the box there in the reef? Find things around the ocean floor which can help.
The Swordfish Escape is a new point-and-click underwater animal rescue escape game developed by Games 2 Jolly.
Other games by -
Walkthrough video for The Swordfish Escape