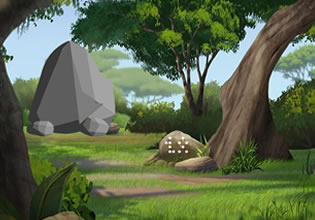 Save The Baby Lion
This wilderness is dangerous, for all over the land, there are wild animals and that's natural, for this place is in Africa and as a ranger there, Michael have seen it all for his decades of being one. That day as he roam around the plains, he found something that it seems he needs to attend to.
Michael observed this baby lion which was being trapped by this other predator he is not sure of for they are in the water. It is very weird. A male lion was around this watering hole circling which he knows is the cub's father. Michael feels like he needs to do something, for he had been observing for an hour now and little by little, the cub is trying to slip-away. Maybe Michael needs to help here even though he really shouldn't. Escape players, imagine you are Michael and your instincts are screaming at you now. What will you do?
Save The Baby Lion is a new point-and-click outdoors animal rescue game developed by Big Escape Games.
Other games by -
Walkthrough video for Save The Baby Lion