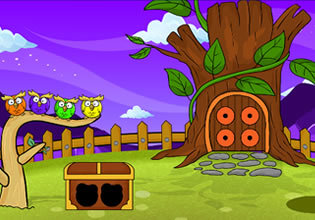 Pygmy Owl Escape
Pygmy owls come by and by in this area here, they are rare but as a person who lives in the area, Ludwig can still see them. That day however, he never really thought he'd come close to one, for one just entered his trap which was in the forest waiting for a catch!
Ludwig finally saw these pygmy owls up close! They are indeed smaller compared to the other owls he has seen. Okay, he is going to have to free this owl for this definitely belongs to the forest where its home is. Escape players, Ludwig might need a little help here in freeing the bird, want to assist him then at least in finding the key to the cage so the animal can be freed?
Pygmy Owl Escape is the newest point-and-click animal escape game created by Games 2 Jolly.
Other games by -
Walkthrough video for Pygmy Owl Escape