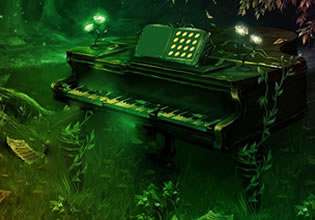 Piano Scenery Land Escape
This fantasy land here is the kind that is forested but also filled with broken pianos. That's weird, but Steve have been to many fantasy lands and he has seen worst. But as he traverse the place though which was interesting but not too interesting, he'll come across a situation there which he must seriously pay attention to.
Steve was following this winding path until, he got lost! He tried to fix this problem then but as it seems, it is not getting solved. Steve fears that he might push himself deeper into this weird place if he is not careful. Okay escape players, would you like to help Steve here with his current problem in this strange but interesting place? Careful then or you might bring Steve directly into the mouth of real danger.
Piano Scenery Land Escape is the newest point-and-click strange wilderness escape game from WoW Escape.
Other games by -
Walkthrough video for Piano Scenery Land Escape