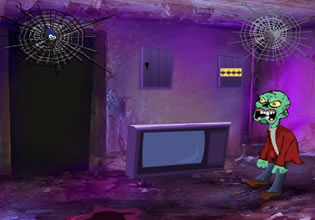 Old Zombie House Escape
Literally, this old zombie just wants to retire but a zombie lives forever. He is not in the mood to scare people and this is not his thing anymore. But sometimes his evilness attacks and when it occurs, there's nothing you can do about it. You really pity this old zombie so you want help him by researching about his condition. He wants you to help him but to make sure about your safety, he asked you to tie him on a chair. However, when you went to his house, your experienced the worst case scenario. He managed to escape from his chain and his evilish side attacks. If he managed to escape from his chain, you can also manage to escape from the Old Zombie House. This side of him will last for a while so you have to escape as fast as you can.
If you get bitten by a zombie, you will become a zombie too. This house is fully locked to prevent him from getting out of the house. This means that you have to find a way to open the door. Play Old Zombie House Escape room escape game from Games 4 Escape and collect items that you can use to unlock the door. Good luck!