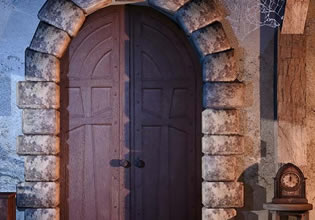 Mysterious Cottage Escape (365 Escape)
Deep in the abandoned town there is a cottage which looks different than its surroundings. The place was definitely antique like the other houses, but this one was not dilapidated though and was pristine. Derry have been trying to find that place for months, it is said that it moves from area to area and that's why people who knows about it can't really find it for such reasons. But now it's like a dream come true for him, for he was now inside the place and was in awe of what this cottage was making him see. But it seems to have come with a payment though, for even when he saw no resident in the place, items seems to be moving around and doors were locking by themselves. In the end he finally get trapped there for he could no longer open any doors!
It's like he had been captured there and Derry feels like a cornered mouse. He is very likely cornered now by something, and that something he doesn't want to meet. Escape players, Derry is now trying his best to escape the place with all he's got. Want to help him then so he can live through this and tell the tale to others?
Mysterious Cottage Escape is another new point-and-click magical indoor escape game made by 365 Escape.
Other games by -
Walkthrough video for Mysterious Cottage Escape (365 Escape)