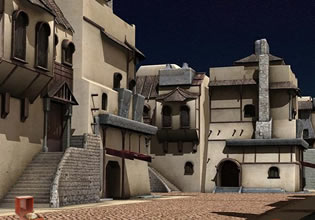 Ghost Town Escape (365 Escape)
This ghost town here had been abandoned for generations, well it's actually ancient and nobody had lived for a long time there. But still, the houses there seems to be well preserved. Scientists have been trying to find-out why is this so, but they can only point it to the weather in the environment and that could have been a great factor for the now antique things there to be preserved. As one of the researchers there, Eddie is in the place for he was researching on the different things there, he is more focused on the history of the place. But as he went, he got lost accidentally and now he needs help!
At the moment, all of the other experts are at base-camp, that means he is alone here and he has no help! Escape players, would you like to help Eddie here so he can find his way back? Do your best and try to be careful, or you might push Eddie here even deeper into this vast old town?
Ghost Town Escape is a brand new point-and-click ancient place escape game from 365 Escape.
Other games by -
Walkthrough video for Ghost Town Escape (365 Escape)