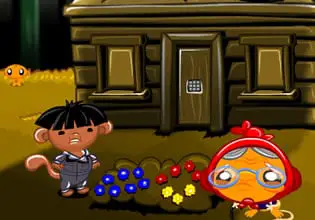 Monkey Go Happy – Stage 641
In the countryside of the monkey planet, there are stress-levels coming from there and most specifically in a small house which was pretty much standing in a remote area. As an operative arrives there, she saw three monkeys trying to destroy this said house! Maybe that's what they are stressing of? Well, not exactly for the operative is seeing mini-monkeys jumping around there.
So the stresses might have been mixed. Okay then, the monkey operative will retrieve the mini-monkeys there quickly and maybe they'll stop stressing and stop destroying this house for they are clearly just being violent here. Escape players, will you help the operative gather all the mini-monkeys there? Quickly then so that the operative can do something with the three violent monkeys.
Monkey Go Happy – Stage 641 is the newest point-and-click retrieval escape game created by Pencil Kids. This game is a continuation of the previous one as its sequel, and is a part of the first game as the start of the series.
Other games by -
Walkthrough video for Monkey Go Happy – Stage 641