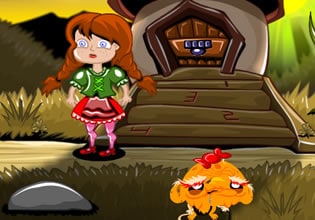 Monkey Go Happy – Stage 609
A signal was coming from way back to the planet where humans lives specifically in a place they call Ireland. But it's not in present time though, but way back at least a few hundred of their years. Of course the monkey operatives which have sensed this through their highly advanced technology will go there for this is their job. The monkey operatives arrived and the location was pretty remote, there was a female human there and also a leprechaun.
The monkey operative which was an old one doesn't understand too much what's happening there, but it seems that the two beings there are conniving on something and that little green man was trying to get a pot of gold from this one house. But he was stopped for these mini monkeys which suddenly emerged from nowhere are now terrorizing him. Well, the operative doesn't care if there are bad stuff happening here or whatever, he must carry-out his job which he had been sent there for and that is to retrieve all of the mini monkeys that's there and quickly before they get away. Escape players, want to help the operative here who is an old one so that this task can be carried-out efficiently?
Monkey Go Happy – Stage 609 is the newest point-and-click retrieval escape game created by Pencil Kids. This game is a continuation of the previous one as its sequel, and is a part of the first game as the start of the series.
Other games by -
Walkthrough video for Monkey Go Happy – Stage 609