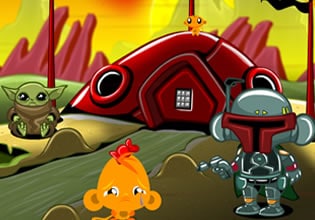 Monkey Go Happy – Stage 607
Boba Fet is in a far away galaxy taking good care of baby Yoda, they are currently being haunted up until the ends of the universe and Fet is holding up however, but the monkey operatives still detected his stress signals though for clearly he is having problems with mini-monkeys. And so a monkey operative have been sent to that area where Yoda and Boba Fet were which is in some dry planet, and they are indeed under attack!
The ones that are attacking them are different persons, but they are also being menaced by these strange mini monkeys though and Fet cannot fight effectively. Okay, this is clearly a task of the monkey operatives, he must comply to this then or these monkeys will populate this dry planet. Escape players, want to help Boba Fet and baby Yoda here in protecting themselves by gathering the mini-monkeys that are menacing them? Go ahead then and be quick on this, try to dodge blaster lasers as well as you tackle this task.
Monkey Go Happy – Stage 607 is the newest point-and-click retrieval escape game created by Pencil Kids. This game is a continuation of the previous one as its sequel, and is a part of the first game as the start of the series.
Other games by -
Walkthrough video for Monkey Go Happy – Stage 607