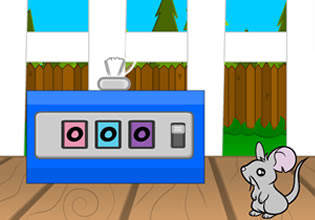 Marly Mouse Escape – Patio
When you first moved in this house, you thought some spirits were haunting you. At night, you could hear some things move around. But when you open the lights, nothing was there. You thought you were just imagining things at night since you didn't really like darkness. However, the same things started happening even in broad daylight. You brought your friends over to check if you were really imagining things. You asked them to stay with you for a few days hoping they'll experience the same. But everything was normal when they were around. You thanked them as they left you. They were telling you not to worry and just call them when things get weird again. You sat in your sofa disappointed with what has happened when you saw a piece of bread moving. You wanted to run away but you also wanted to get to know how.
So you came closer and saw a mouse walking slowly. It saw you and tried to run yet you acted fast and trapped it inside a strainer. You thought aloud about your worries and the mouse surprisingly replied. You had a little talk and the strange things just became normal. However, it didn't stop the mouse from getting into trouble. Play Marly Mouse Escape – Patio room escape game by Mouse City.