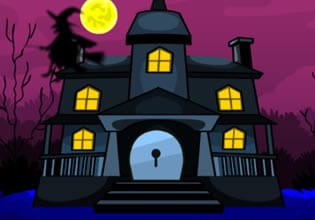 Halloween Forest Escape 3
Morgan was able to escape finally! After all of those trials in there, he had made it! But little did he know somebody was actually following him to rescue him! One of his friends went inside the place for he had been gone for long and that concerned him to the bone. This person was Jonathan and he was Morgan's closest friend. He saw Morgan went in and that got him to move to try and stop him! But it was already too late for he went quickly.
Jonathan was very concerned of Morgan for he had lost his brother there before and that drove his parents to despair. He doesn't want Morgan to suffer the same fate and for his parents to also be in despair, so he went in to help him. But little did he know Morgan already escaped and now Jonathan had placed himself in a situation he would never bring himself into. Escape players, Jonathan doesn't even want to be there one bit if it wasn't for Morgan. Will you help him out of there then so he can get out quickly without much confrontation with the spooks there?
Halloween Forest Escape 3 is another new point and click scary wilderness escape game made by 8b Games and Games 2 Mad. This game is a continuation of the previous one as its sequel, and is a part of the first game as the start of the series.
Other games by -
Walkthrough video for Halloween Forest Escape 3