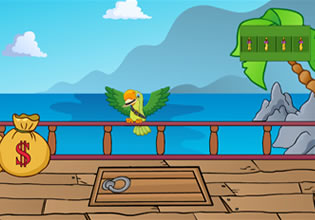 Find The Pirate Sword
Your friend pirate who was Clayton is now in town again, he is not really a threat in this place for everyone respects him there, he comes and goes and he doesn't really stay for long, but as he was about to leave though he needed your help for a minute for he lost something important.
Clayton could not find his trusty sword anywhere and the thing was just lost! He can't really go and set sail without that thing for that weapon is kind of like his signature and that thing has a big sentimental value to him. Escape players, you are going to help your friend Clayton here find his sword, will you be able to locate that weapon so that he can finally leave?
Find The Pirate Sword is a brand new point-and-click item retrieval escape game released by Fastrack Games.
Other games by -
Walkthrough video for Find The Pirate Sword