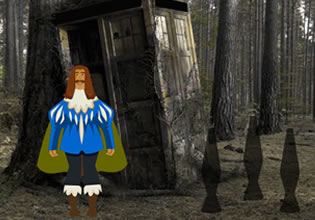 Prince Sword Escape
The prince shouldn't have left his sword in the land here, maybe his ordinary sword but the prince's royal sword, he really shouldn't have. the prince was surveying the forest for he was looking for something there. It was a sudden task and that's why he wasn't able to leave his royal sword back in the castle, so he hid it in a secret receptacle there in the wilderness under lock and key.
After a while, he returned to retrieve his ancient and symbolic weapon, but unfortunately he can no longer get it, that's because he lost the key to the receptacle! His father the king will really be mad at him when he finds-out about this, and he can be very scary even when he is old. Escape players, will you just help the prince here get back his royal sword so he can quickly return home?
Prince Sword Escape is another new point-and-click item retrieval escape game made by Big Escape Games.
Other games by -
Walkthrough video for Prince Sword Escape