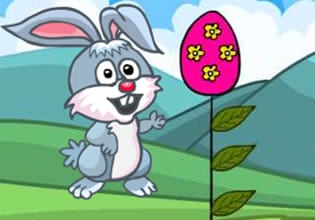 Easter Party Celebration
Finally, Gerald brought his family to the place where he celebrates Easter and it's not just any ordinary land, for the place is where the real Easter bunny lives! It is a long story how he found the place years ago, but the Easter bunny and him have formed a friendship already and he is welcome in the land as long as he lets the Easter bunny knows he is coming, especially now that he has company. Gerald got to the area he was told to where the new visitors should be, they must not leave from there for the place is filled with illusions and he knows it. Well his family is going to be safe in their stay though, but as unexpectedly as it is, he was the one who was going to get in trouble there!
Gerald was checking in a part of the area where more houses were and he would like to bring his family there. Well it so happens that a very strange illusion is currently engulfing the place and the Easter bunny forgot to tell him about it! Eventually he got lost in there and because neither of his family knows the place and he came alone, nobody can help him now but himself. Escape players, imagine you are Gerald here and the illusions of the place is currently changing your perception, it's not like Gerald have never experienced something like this, but will you be able to escape from it though?
Easter Party Celebration is a brand new point and click area escape game released by 8b Games and Games 2 Mad.