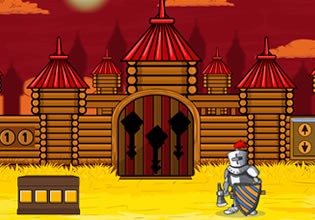 Cavalier Warrior Escape
The temporary barracks here are all made of wood and the carpenters there have really done a great job with this vast place. But they are still working though for the entire structure is not yet finished. One of the champion warriors was there that day for he needs to direct his own squad who are already in the place. But as the day progressed though it was at first quiet, until it wasn't and now they need every man here to help the champion warrior!
He got trapped in this quarters here and because it was heavily fortified, men are needed to open this thing for that's how buffed it is. Or maybe they just need one who is smart enough to free the champion the easiest way possible? Escape players, you are now there in the situation and so, will you be the one to free the champion easily?
Cavalier Warrior Escape is the newest point-and-click rescue escape game from Games 2 Jolly.
Other games by -
Walkthrough video for Cavalier Warrior Escape