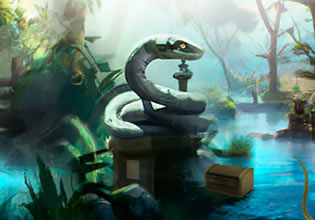 The Witch, The Ghost And The Snake
Some Halloween entities needs help here in the forest where Samuel lives. It's really strange, they appeared suddenly and came up to him like they know he can help them, well he can but he doesn't know if he will.
Escape players, you will now be playing as Samuel here and the first one to approach you was the witch. What does she want? Well she seems to need some gems here which can only be found in this place and those must be inserted in the sockets of her stick. Okay, they seem to be kind even though they do not look like so, you will be playing with this now and see how this goes. Will you be able to find the gems for her then?
The Witch, The Ghost And The Snake is a new point-and-click wilderness item retrieval game developed by Esklavos.
Other games by -
Walkthrough video for The Witch, The Ghost And The Snake