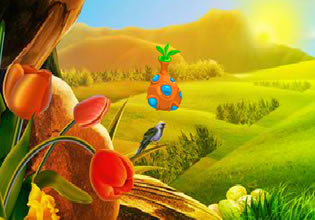 Brighid Girl Escape
Check-out another daring rescue here in a vast and lush wilderness. Brighid Girl Escape is a brand new point and click rescue escape game from Games 2 Rule. Enjoy the adventure everyone!
The vast wilderness has this lush forest and a wide meadow, aside from all of the scattered houses in the area, there is also a path going from here to there and otherwise, which means anyone can easily navigate the path and nobody could get lost, well nobody had ever. But one day, one of the owners of the scattered forest houses who was Tobin, noticed something in the distance at the edge of the forest, and it was a girl. At first Tobin thought the girl was just from one of the houses but soon, he realized that she wasn't and she seems in a panic!
Tobin knew that she was in some trouble because her expressions says so. As soon as Tobin called for her though, she soon entered the forest and was out of sight. Tobin still continued to see if he can help that girl wherever she is, but first he must find her in the forest. Escape players, Tobin is on the search for the girl here who entered the thick forest for she could be in some trouble and is in-need of help. Join Tobin here then and may the search be successful. Good luck everyone.