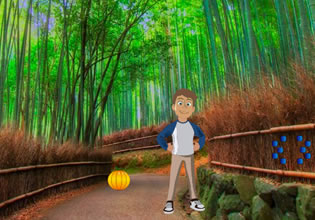 Bamboo Buddy Escape
Arvin and his panda buddy will traverse the land just to get to the other town. They both have a ways to go and most of the areas they will be going through will be covered by bamboo, hence why it's called the bamboo forest. This journey can be dangerous, for the bamboo there grows very fast and those things if not tended to can block an entire path in just a couple of weeks! Hopefully they won't come across that kind of situation, but still they will get into some kind of situation and that will be quite a problem.
Arvin cannot push further now, for along the path his panda buddy went missing! He definitely went into confusion for not only he doesn't know what to do, but he doesn't know where to start looking for him. What in the world just happened? He was with him a minute ago, but now he is gone. Escape players, Arvin cannot handle a situation like this alone and he can't get any help, okay then will you be that help and see if you can find his panda somewhere in the tall and blocking walls of bamboo?
Bamboo Buddy Escape is the newest point-and-click wilderness rescue escape game created by WoW Escape.
Other games by -
Walkthrough video for Bamboo Buddy Escape