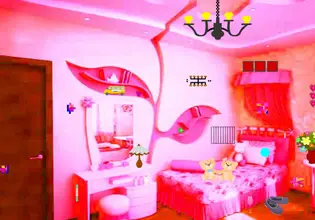 Escape Blushpink Room
You're having a very rough day today. Everything seems to be going against you. You try to fake a smile in front of the mirror in the hopes of developing a genuine smile. But no matter how many times you try, you still end up with a sad face. So next you try changing your mind set. You try to be so positive as you walk out to face your office mates. Yet as soon as you step out of the room, your colleague trips over and pours coffee on your shoes. So you go back inside to change into slippers as you don't have any extra shoes inside. Then your boss calls you for a talk. Upon entering his office, he sees your slippers and instantly asks you about it. You try to explain to him but instead he erupts in anger for not wearing appropriate footwear.
He asks you to get out of the room and find a pair of shoes before going back. You don't know where to go so you end up opening every room in the office. And then you find this blushpink room that you instantly fall in love with. You find the room very pretty and comforting that you find it hard to leave. Play Escape Blushpink Room room escape game by Ajaz Games.
Other games by -
Walkthrough video for Escape Blushpink Room