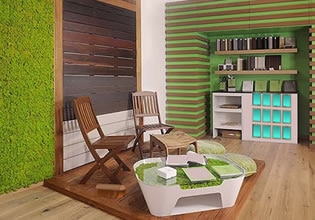 Blossom Plant Office Escape
The office is now silent for the staff had left for duty day is now over, the ones that are left there are the security who will work night-shift and Manuel who was also leaving for his duty had come to an end there. He now saw the place as it is when the crowd is gone, he can now see the vegetation all-over the place there and it's like a forest. Their boss loves nature so he placed plants of different kinds on every corner of the complex there and now it is very green in there. Manuel was heading out now when he noticed something there, he could not open the door and it's weird for he was suppose to be the last one there and he should be the one to lock-up.
Okay, looks like somebody thought they were the last one here and locked the door. Okay then he'll have to find the key here which was stored in multiple places he must check. He wondered whoever made the idea to put the keys in multiple places, it should be in just one place so it can be found easily. He needs to tell the security or staff that is in-charge of that about such so that can be changed. Escape players, want to help Manuel here find that key somewhere so he can open the door and leave then?
Blossom Plant Office Escape is the newest point and click room escape game from WoW Escape.
Other games by -
Walkthrough video for Blossom Plant Office Escape