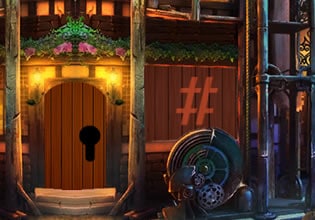 Beautiful Cheery Duck Escape
What wonders are still being kept from modern man up to this day, and one of which was this evolved village which houses not only humans, but also sentient animals! This said place is hidden deep in the forest and away from any known civilization, what sets it apart from any place around the globe though were the animals who lives with the people there and they were even civilized and clothed! That's pretty different, but they have lived with that for a long time now though and because nobody can really explain what exactly happened there, they just let that be.
As a human resident there, Angelica even has a friend there who was a young cheerful duck. They were closest of friends and that day even, Angelica will be coming by at her place so they can spend the day together. But as Angelica got there though, some issue was currently happening there and Angelica's help there now was vital! Escape players, you are now in the shoes of Angelica here and you are about to find-out what the problem is there. Want to see what could that be and see if you can solve it too? It most definitely involves Angelica's dear friend here so be ready to solve this quickly.
Beautiful Cheery Duck Escape is a new house rescue escape game developed by Palani Games.
Other games by -
Walkthrough video for Beautiful Cheery Duck Escape