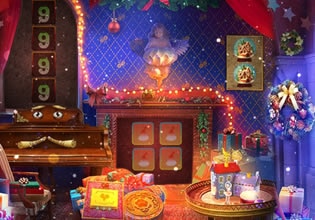 Yule Creature Goat Escape
When Christmas time comes, there is this creature that frolics around the village and this being looks beautiful and delicate. It is most beautiful but it's not delicate, it's more magical though than that. This creature looks like a goat or a fox, it is purple in color with some blue hues and well when people sees it then they know Christmas has come. But that evening though one of the villagers there saw this creature not being majestic in the snow, but actually trapped in one of the structures there in the place!
That villager is Carla and the yule goat as they call it is trapped inside a compartment structure there of her neighbor's! Carla was stunned when she saw this, but she cannot call her neighbor there now, for he is a drunkard and he most definitely will not respond to her at all. Okay then, Carla is going to free this magical being herself so it can return to the snowy wilderness where it belongs. Escape players, want to help Carla here so that this will be easy for her?
Yule Creature Goat Escape is the newest point and click rescue escape game created by Games 4 King.
Other games by -
Walkthrough video for Yule Creature Goat Escape