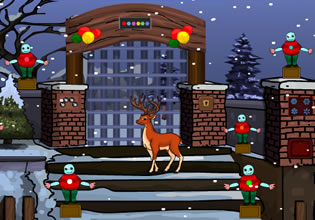 Xmas Reindeer Escape
Santa is very busy during Christmas season. Thankfully, he has friends that help him throughout the season. He has his elves that helps him to wrap the gift. Another creature that's been a big help to Santa is the reindeer. The xmas reindeer is not an ordinary reindeer. This one flies to the air. With that, Santa doesn't have to deal with traffic in the city. The entire team is indeed magical and everyone is important. So now that Santa found out that the reindeer is missing, he quickly looked for him. Good thing the he saw him right away. What's not good is the fact that the reindeer is not in a good place. He is in trouble and you have to help him to escape quickly. They should deliver the gifts in time. With that, you have to move as fast as you can.
There are puzzles that you need to solve before you can finally get the reindeer out. The good news is, there are clues around the area that can help you with those. There are also items that you can use for your rescue mission. Xmas Reindeer Escape is brand new point and click room escape game by Games 4 Escape. Have Fun!