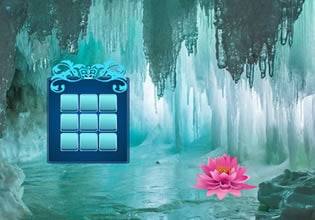 Wonderful Icicle Cave Escape
For your vacation, you finally decided to go and pay the crystalline cave a visit. You are told it's absolutely a wonderland there and because the crystals which are mainly quartz looks like ice, the place was named the icicle cave and really it's a fitting name for it, because the shiny things there definitely looks like ice. That day, there were less guests and that's good at least for you, for you have the place all for yourself. Well actually it's not at all that good, for you will soon realize that without anybody, you won't get any help if you get in trouble, and unfortunately you did!
You just got lost in the cave systems and because there are no people around, you couldn't ask for directions! You just hoped and prayed that you'll meet someone there, but it seems that you are very much alone. You are only a bit concerned and not fully though, for the place was deemed safe so there is hope here, but you can still get pretty much lost even more there. Escape players, you are actually on the situation here in the caves, how will you solve this then so you can get back out?
Wonderful Icicle Cave Escape is the newest point and click underground escape game from WoW Escape.
Other games by -
Walkthrough video for Wonderful Icicle Cave Escape