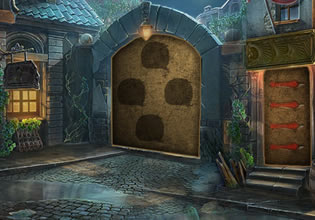 Wizard Pumpkin Escape
The village here just discovered that their settlement actually has a wizard, it was a scrawny thing and has a pumpkin for a head! Some people believe in it though even when it was not too good looking, but others were discriminating and the moment they saw him, they immediately labeled him as a monster and captured him!
The more reasonable people were not listened to and those who were discriminating were loud and rambunctious, that's why the reasonable ones are standing out of the way for they want peace and do not want to get involved in their violent acts. But one person was not going to take this though, he needs to do something or these people will doom them all by imprisoning their only protector. That person is Michael and he planned to free the wizard under the shadows of the night. Escape players, Michael is doing this alone for nobody will go with him because they were scared, okay then want to help him so that freeing their wizard will be a piece of cake?
Wizard Pumpkin Escape is a brand new point-and-click rescue escape game released by Games 4 King.
Other games by -
Walkthrough video for Wizard Pumpkin Escape