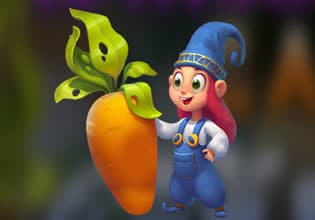 Winsome Carrot Girl Escape
Every resident there in the town is fascinating in their own way, there was this person who excels in art and some excels in engineering, but one fascinating girl there though was really good with growing carrots and she really grows them huge! Nobody really knows how this girl does this, she just plants them just the same than the other farmers there, but hers would always stand-out for they grow well and are big. She even tried to be an instructor once to a couple of farmers to help them, but it seems her talent can never be passed. Still she helps everyone by providing them oversized carrots for she has a lot of surplus most of the time. But that day though it seems that she was going to be the one who will be needing help, for right-now she is trapped in her house and she couldn't get out no matter how she tried!
Escape players, you were the first responder there for you just went to her farm to acquire some carrots, she is lucky that you came and you heard her call for help. How did she got trapped in there anyways? You were kind of mystified for you were most likely to get trapped or lost there, but she was the one having a problem with that. Well accidents can still happen, so want to help her then and delicately so can safely escape?
Winsome Carrot Girl Escape is the newest point and click rescue escape game created by Games 4 King.
Other games by -
Walkthrough video for Winsome Carrot Girl Escape